CJ and Ultracomp bearings resist friction and corrosion in military application
In an era of increasing violence and civic unrest, military personnel and other first responders put their lives on the line every day in hotspots around the world. From fire crews uncovering a potential drug lab, to soldiers investigating a bomb threat or potential IEDs along the roads of Afghanistan, troops need highly-specialized robotic tools to help them evaluate and even mitigate hostile situations from a safe distance. In response, the defense industry has developed remotely-operated tracked vehicles ― with the help of specialized composite bearings.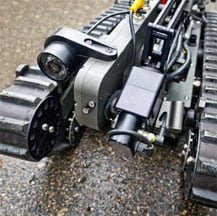 Remote tracked vehicles vary in proportion from palm-sized devices built to enter tight pipelines, to full-sized ATVs used for bomb disposal. No matter the size, these robotic vehicles must traverse over rough terrain with agility, stability, and accuracy. TriStar's CJ and Ultracomp composite bearings have provided designers the best bearings on the market in terms of load-tolerance, corrosion-resistance and low-friction, plus maintenance-free service.
CJ composites replace bronze bushings in early tracked vehicle design
In early tracked vehicle designs, CJ bearings provided a superior drop-in replacement for failed bronze bushings. Unlike metal bushings, CJ composite bearings are built to withstand high load and abrasion levels, while resisting corrosion. They also offer a self-lubricating design for long-term, maintenance-free service in a 24/7 combat environment.
Ultracomp bearings expand next-generation capabilities
As remote tracked vehicle designs evolved, Ultracomp bearings have accommodated new configurations and intricate functions at the lowest possible friction levels. Ultracomp delivers tight tolerances to meet the requirements of the vehicles' lifting arms and rotating grips.
As a longtime military bearing supplier, we're proud to provide the industry's top composite bearings to help save the lives of our first responders. Explore how Ultracomp UC 200 bearings helped the DOD design vehicle barricades around military compounds.
Ready to explore composite bearings for your next application? Get in touch with the composite bearing Experts!